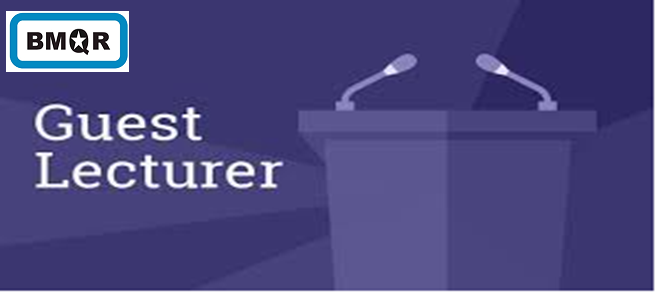 1.0 PURPOSE
To plan and define the procedures for conducting the Guest Lectures.
2.0 SCOPE
            To provide additional know-how to the students about the latest trends in Industry and research and update their technical and technological Understanding.
3.0 RESPONSIBILITY
Principal, Administrative officer, HOD's and faculty-in-charge of Guest Lectures.
4.0 PROCEDURE
4.1.A minimum of 6 guest lectures are planned for each semester for the Subjects of interest and the same is brought in the total plan for the Semester.4.2.In the first departmental faculty meeting the guest lectures, to be arranged
For that semester is finalized and a faculty-in-charge is given the responsibility to organize the same.
4.3.Action is taken to locate experts from industries, research institutions and Engineering academicians as guest lecturer.
4.4.The faculty-in-charge gets the approval from the HOD during the faculty Meeting regarding the subjects and persons available after interacting with the concerned experts.
4.5.Faculty-in-charge has to conform about the Guest lecture arrival in advance.
 4.6 The transportation and boarding arrangements for the Guest lecturer has to be done by the department Association in charge through administrative officer.
4.7.The guest lecturers are provided with all the facilities, the honorarium is decided in advance, and the expenditure is included in the budget for the department.
4.8.A feedback is solicited from the students to express their opinion on the Effectiveness of the lecture arranged.   
 4.9.Essential modifications are implemented based on the feedback on the lectures from student regarding chosen subject, effectiveness and its Usefulness.