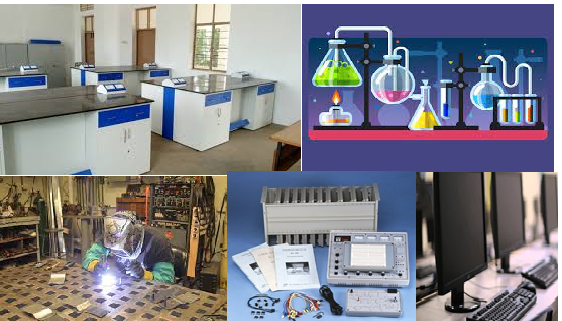 PROCEDURE
            List of Laboratories under the various department
                        i). Physics
                        ii).Chemistry.
                        iii). Workshop
                                a) Fitting and Carpentry
                                b) Foundry and Welding
                        iv).  Microprocessor and control lab.
                        v).  Electronics circuits and devices lab.
                        vi). Digital system design and DSP lab.
                        vii). Communication lab.
viii). Electrical Machines lab
                        ix). Electric circuits & Power Electronics Lab 
x).  Computer Lab.
            1  Identification
            An unique Number or code is assigned for every equipment / Machines whether mobile or stationary.
            2  Maintenance of Records
            2.1   Maintenance Register       
2.1.1. A Register is maintained in every laboratory with details covering Installation, periodic maintenance, breakdowns repairs with Scheduled date for the next phase of action. For computer lab, Maintenance includes defragmentation, deleting unnecessary files,Checking network connections, hardware's etc. The register is Common for internal and external.
 2.1.2. A logbook for individual PC is maintained, so that usage of the PC is recorded every time, in the computer lab. This enhances easier tracking of system fault.
2.1.3. Inward and outward registers are maintained in the computer lab.
            2.2.  Maintenance should be periodically done.        
            2.3.  Lab-in-charge is responsible for maintenance plans & keep always the equipments / machines ready for laboratory / workshops programme. 
            2.4.  When as equipment / machine has aged and is uneconomical to Work, it is condensed / Disposed with approval from HOD / Principal.
            3. Inventory Register
            3.1.  Inventory Register containing equipment, instruments, machines available in the laboratory with the basic description and purchase details.  
            4.  Updating of Records
            4.1.  Inventory and maintenance register are updated as and when new additions are made by fresh purchase or inter departmental transfer.
            4.2.  Movement Register
Containing movement of equipments Machines, Instruments must clearly updated.
            5.  Periodical Maintenance [Twice a week]
            5.1.  Lab-in-charge prepares a list for equipment / machines which need daily care at the end of the day's use or start of the day.         
5.2 Lab-in-charge may assign the daily maintenance care of Equipments to persons specifically assigned for periodical Maintenance.
          6. Breakdown Maintenance [Service Register]
            6.1.  Any breakdown of machines / equipments is reported by the Technical or lab asst. to the lab-in-charge who in turn make an assessment.
            6.2.  If the breakdown is minor, the same is attended by the technician attached to the department.
            6.3.  If the breakdown is major, the lab-in-charge will immediate an action to repair the saw in shortest time. It can be done by external technician or department technician.   
            6.4.  A breakdown register is maintained in which the details are recorded.
           7.  Calibration
            7.1.  Lab-in-charge of each lab prepares a list of equipments / Instruments /Machines, which needs periodical calibration.
            7.2.  Internal / External Calibration.
            7.2.1. Technically competent persons from the department is assigned to Undertake calibration.           
7.2.2. Calibration is done by comparing with best functioning Instruments.           
7.2.3. The instruments which are in good conditions are separately list.
            7.2.4. Major testing machineries and instruments which are not possible to calibrate inside, are to be calibrated outside.           
7.2.5.Calibration is done only after getting the correct quotation and duration for completion.                
7.2.6. A register is maintained containing the details of calibration (both In / out).           
8. Consumable controls
            8.1.  List for consumables are prepared by HOD consulting with Respective faculties that are required for an academic year.             
8.2.  Requirements are fulfilled well advance of starting of the semester / Year.
            8.3.  A register must be maintained for consumables which includes all information. 
The above procedure is to be followed for getting ISO 9001:2015 Certification