ORGANISATION (SEIRI)
* Decide What You Need.
* Remove Unnecessary Clutter.
* All Tools, Gauges, Materials, Classified And Then Stored.
* Remove Items Which Are Broken, Unusable Or Only Occasionally Used.
Red Tag Technique
* Give Staff Red Labels.
* Ask Staff To Go Through Every Item In The Work Place.
* Ask If Needed & Those That Are Needed, In What Quantity.
* Not Needed – Red Tag It.
* Store In The Red Tag Area.


For Wavering Items


* Place The Suspected Items In The Red Tag Area For One Week.
* Allow The Staff To Reevaluate The Needed Items.
* At The End Of Week Those Who Need Items Should Be Returned.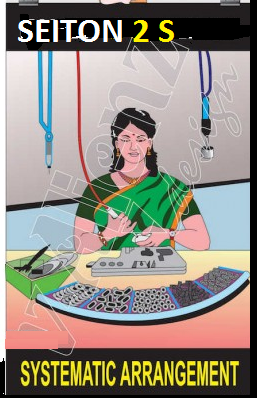 ORDERLINESS (SEITON)


* Once you have eliminated all the unneeded items.
* Now turn to the left over items.
* Organise layout of tools and equipment.
* Designated locations.
* Use tapes and labels.
* Ensure everything is available as it is needed and at the "point of use".
Workplace checkpoints:-
* Positions of aisles and storage places clearly marked?
* Tools classified and stored by frequency of use?
* Pallets stacked correctly?
* Safety equipment easily accessible?
* Floors in good condition?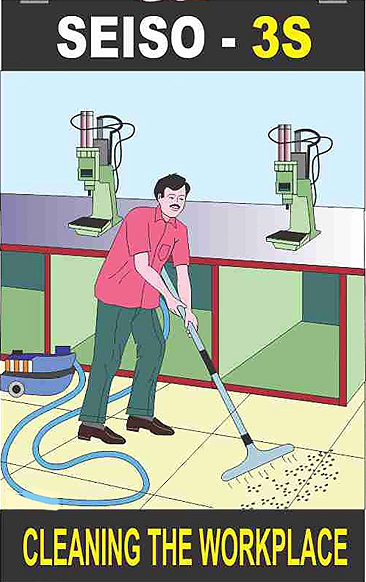 SEISO (CLEAN/SHINE)
* Create a spotless workplace.
* Identify and eliminate causes of dirt and grime – remove the need to clean.
* Sweep, dust, polish and paint.
* Divide areas into zones.
* Define responsibilities for cleaning.
* Tools and equipment must be owned by an individual.
* Focus on removing the need to clean.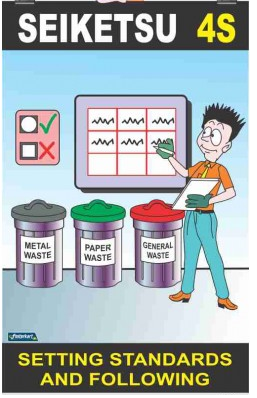 SEIKETSU (STANDARDISE)


* Generate a maintenance system for the first three.
* Develop procedures, schedules, practices.
* Continue to assess the use and disposal of items.
* Regularly audit using checklists and measures of housekeeping.
* Real challenge is to keep it clean.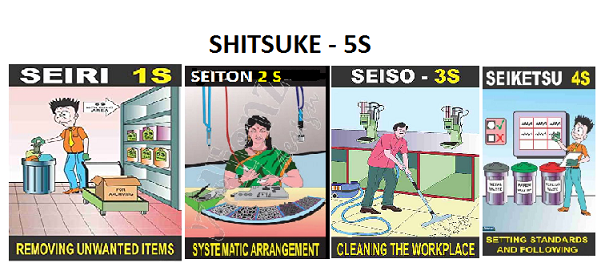 SHITSUKE (SUSTAIN/DISCIPLINE)


* Means inoculate courtesy & good habits
* Driving force behind all 5S
* Deming's point number 1: Constancy of purpose
* Make it a way of life
* Part of health and safety
* Involve the whole workforce
* Develop and keep good habits